Who are we?
We provide Loft Conversions in Newham and other construction services. We have a dedicated team of expert civil engineers, designers, contractors, architects, and many other technicians.
We have completed numerous Loft Conversion Newham to the complete satisfaction of our clients. Our technical staff has all the necessary licenses as well as the experience to deliver flawless results.
We are ranked among the best loft conversion company Newham and we have established an impeccable repute for ourselves in the market. Hire us for loft conversions in Newham for a stress-free conversion process.
What is the purpose of loft conversions?
Loft conversions can increase your living space at a much lower cost than moving to a new home or carrying out a home extension.
Loft conversions can improve the aesthetics of both the interior & exterior of your property.
Loft conversions are a relatively cheaper way of increasing the real estate value
Need Assistance?
If you have any question feel free to contact us!
Conversion Options
Rooflight Conversion:
Add flooring to your existing loft space, install electric and plumbing utilities, add a staircase, add roof light windows, and you have what is known as a roof light conversion. The simplest and the cheapest loft conversion among all types. Rooflight conversions do not require planning permission and provide you with loft space that was otherwise being wasted. The process might sound simple to you but this is not a DIY task and you should hire experts for carrying out roof light conversions. We are loft conversion specialists Newham who will carry out rooflight conversion at the lowest loft conversion cost Newham.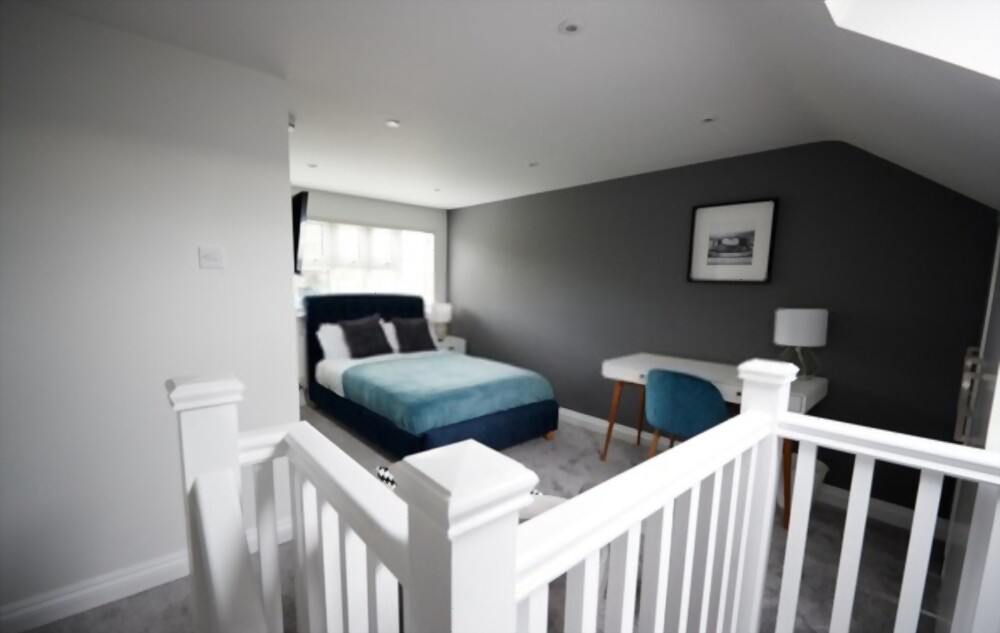 Dormer Conversions:
This type of conversion involves increasing your loft's headspace through the addition of a box shape structure onto the pitched roof of your house. You can choose from a number of designs such as L-shaped, dog-house dormer, shed dormer, and flat roof dormer. Dormer conversions fall under permitted development rights and do not require planning permission. Dormer loft conversion Newham can provide you with extra floor and headroom space as well as increased natural light. We are among the best loft conversion companies in Newham and will provide you with the most effective dormer conversions.
Mansard Loft Conversions:
Unlike the above two, mansard conversions require planning permission. That's because they involve several alterations to your existing loft structure. The loft is made flat and sloping walls are added. The sloping walls usually form an angle of 72 degrees that makes them look almost vertical. Mansard conversions can be carried out on all sides of your home. You can even carry out a double mansard conversion. The loft conversion cost Newham of mansard conversions is higher than the above two types of conversions. , However, they provide considerable space as well as natural light. They also considerably improve the aesthetics of your house.
Hip to Gable loft conversion:
Properties that have a hipped roof can benefit from hip to gable conversions. Most of the semi-detached houses belonging to the era between the 1930s and 1950s have hipped roofs which unnecessarily cover up space. A hip to gable extension brings this wasted space into use. It maximizes your inner space and also provides your home with aesthetic value. For this type of loft conversion, you will most probably require planning permission.
Highly reliable services
Whether you require a hip to gable conversion or a mansard conversion in Newham, we are the best loft conversion company Newham. Our team members are licensed operatives and are highly qualified. We will provide you with every service required for loft conversions. From installing utilities like plumbing and electric works to providing interior design of your new space. You do not have to stress yourself to get planning permission for your loft extension Newham. We will take care of that too.
Contact Us
Get in touch with us for loft extension Newham. Call us on our registered number and talk to our representative. Book a free visit to your site and our Loft conversion Newham team will visit your home. They will conduct a detailed survey and suggest the best type of extension that suits your current property structure as well as your budget. We will present you with a free quote 48 hours after the visit. If you accept the quote, our team will get to work. We will perform every step, from getting planning permission to the completion of your loft extension.
Need Assistance?
If you have any question feel free to contact us!