Bathroom Fitters Dagenham
Who we are?
We are among the top Bathroom Fitters Dagenham. We provide several services such as Bathroom Refurbishment in Dagenham, Complete bathroom installation, repairs & general maintenance. Our highly professional team includes fitters, plumbers, tilers, etc. All our team members are highly qualified and licensed operatives. We have completed numerous bathroom renovation jobs in Dagenham to the complete satisfaction of our customers. Our Bathroom Renovation Dagenham services include complete bathroom renovations or partial, depending on your requirements.
What's included in the renovation?
Complete renovations differ from complete Bathroom Installation in Dagenham. When it comes to renovations, we will repair and reuse anything which is still in a good condition. Anything that has completed its useful life will be replaced. A full-scale renovation will include the repair or replacement of taps, basins, bathtubs, sanitary ware, piping, heating system, etc. Some of the services our Bathroom Fitters in Dagenham will provide include:
Replacement/repair of bathroom fixtures, accessories, furniture (bathtub, washbasin, toilet, etc.)
Bathroom designs Dagenham for full-scale renovations.
Removal and replacement of bathroom tiles.
Repair/re-plastering of walls.
Electrical works such as lighting and re-wiring.
Plumbing work such as piping and drainage system.
Repair/ replacement of the heating system.
Bathroom accessories installation.
Need Assistance?
If you have any question feel free to contact us!
How do we do it?
 Depending on the scale of renovation or Bathroom Refurbishment Dagenham, the complete process will typically follow the below-mentioned steps:
Our professional team will visit your site and carry out a detailed survey of your bathrooms. They will identify everything that has to be replaced and everything that can be reused/repaired. They will check everything from your bathroom floor tiles to your heating system. The site visit is free.
Once the visit is complete, we will provide you with a renovation plan including bathroom designs in Dagenham and a complete list of fixtures that need to be replaced or repaired. The renovation plan will also include a complete cost analysis in the form of a free quote.
If you accept the free quote, we will procure the necessary supplies and provide you with a booking date for our services.
On the booking date, our professional team of plumbers, fitters, and tilers will begin their work. They will finish the renovation within the time provided to you. Contact us for the most effective Bathroom Renovation Dagenham.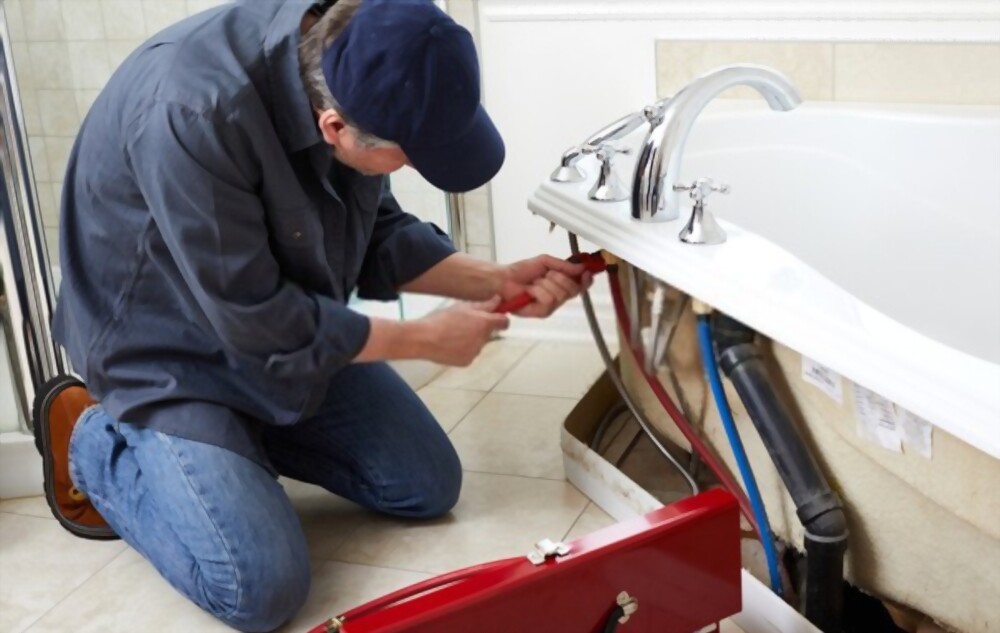 Why we are the best?
Skilled Professionals
Complete Bathroom Fitters Dagenham can be a complicated task. It is not for the untrained and it is not a DIY task. Complete renovation requires replacement of wall and floor tiles, repair or replacement of heating systems, installation of drainage systems, etc. All of these tasks require advanced skills and professionalism which our team members are famous for. All our plumbers are certified and licensed. Our tillers and fitters are equipped with substantial experience. Our team members are equipped with the latest tools to provide you with flawless services. When you hire us you can be sure that your bathroom will not only look incredible but also work properly. We also provide Bathroom Maintenance in Dagenham services to keep your bathrooms in immaculate condition.
Quality Supplies
We provide all the bathroom supplies required for renovation. These include bathroom fixtures and furniture such as washbasin, bathtub, toilet, heating system, drainage system, bathroom accessories such as shower seats, luxury accessories, tiles, etc. We procure our supplies from the top vendors in the UK to ensure that your bathrooms get the best supplies and that your Bathroom Installation Dagenham lasts a lifetime.
Cost of Renovation
Your total cost of Bathroom Renovation Dagenham will vary depending on the scale of the renovation. Replacing a single fixture will not cost a lot but the cost of renovating an entire bathroom can be high. For instance, if the renovation includes the replacement of the heating and drainage system, your cost can be high. Rest assured, when you hire us, you can worry less about your cost because we will provide you with the most competitive rates.
Contact Us
You can contact us by calling on our registered number. Talk to our representative about your bathroom renovation Dagenham requirements and request a free site visit. The site visit will be provided to you within the shortest possible time. You will also be provided with a free quote. You can also get in touch with us online through our website.
Need Assistance?
If you have any question feel free to contact us!