Kitchen Refurbishment London
Get the finesse Kitchen Refurbishment London that you have always dreamt of.
Estate Renovation brings you luxurious and breathtaking kitchen remodelling London services, at your doorsteps.
With the best kitchen designers and manufacturers, we are proud to be one of the leading renovation companies in London.
From contemporary to minimal and conventional kitchens; we specialize in creating a magical space for you all. Our team brings you the perfect solutions for all types of kitchens. We are here to breathe life into your dreams, bringing your imagination to reality.
Modern Kitchens are just a Click Away
With Estate Renovation, your modern and luxurious kitchen is just a click away. We specialize in modern and contemporary kitchen remodelling in London, building a space that is completely personalized to your choices.
Our team of experts is just a click away. We build your kitchens with all our hearts and soul. With a vision to weave a functional space to life, we make your kitchens stylish, appealing, and modern.
Just give us a call and we will get your ball rolling.
Need Assistance?
If you have any question feel free to contact us!
Quality like None Other
We are proud to have an unrivaled kitchen renovation London quality.
Our team of designers and builders work together to ensure that the kitchens we remodel and build for you, stand out in quality.
We do not build a kitchen that only looks good; we make sure that it feels good and has a lot to offer to you.
Estate Renovation has been in business for years now. Our experience has helped us gain a huge insight into kitchen refurbishment. We have also built a positive reputation over the past few years and we strive hard to maintain it.
With us, you are bound to get a quality that speaks for itself. We have been creating premium quality, luxurious kitchens for years now. You can rely upon us to bring your imagination to life too.
Get in touch today.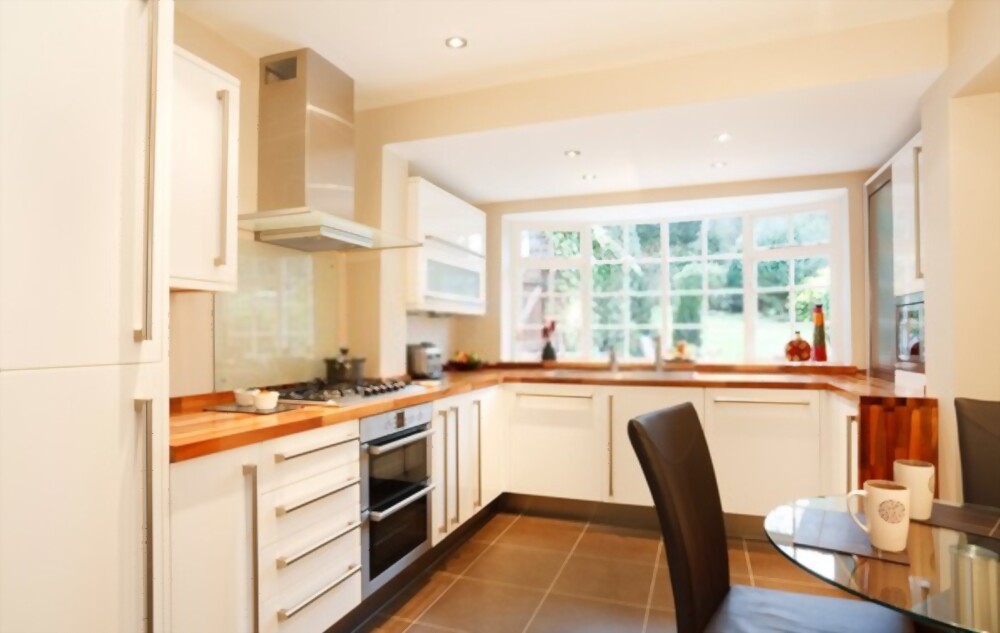 We Help You Make the Right Decision
Decision-making is quite tough, especially when it comes to your home. But we help you streamline the process.
Come, and discuss your thoughts and ideas with our expert designers. We offer free expert consultation to all our clients.
We will listen to your requirements and then create a kitchen renovation in London plan accordingly. Whatever you want, whatever your ideas; it is our duty to bring them to life.
We make the entire process engaging and exciting for all our clients.
Highly Qualified Kitchen Refurbishment in London Designers
We have carefully selected the best kitchen designers for Estate Renovation, to ensure a guaranteed, high-quality outcome each time.
Our designers work hard to not only bring the best designs to you but to make sure that the final outcome is visually appealing and functional; just the way you have dreamt of it.
We are proud of our team of expert designers, who understand their tasks impeccably well and renovate kitchens professionally.
All aspects of your kitchen remodelling London are covered to perfection by our designers. we meet all the quality standards that you want.
One-Stop Kitchen Renovation in London
From the initial design to the final finishes; our kitchen refurbishment in London experts manage the entire process for you.
We are a one-stop solution for remodelling your kitchens to perfection.
Sit back and relax, as our team undertakes the entire process for you. With us, you have absolutely nothing to worry about.
Personalize your Kitchens with Us
With us, you can personalize your kitchens, as you like. Choose from our wide range of designs or simply let us know what you require.
We allow complete customization of kitchen renovations. It is your space and it must portray your choices.
From your ideas to your imaginations; we allow you to share it all with our expert team and they will craft a design accordingly, for you.
Take a Look at Our Portfolio
Take a look at our online portfolio. We have carried out innumerable kitchen renovation London projects to date.
Get a Free Quote
We have no obligations. You can get a free quote from our experts, via call or fill out the quotation form. Our team will get back to you in a short time span.
Contact us Today
If you want our kitchen refurbishment London experts to build a modern kitchen for you; give us a call. You can visit us personally too. We are fully vaccinated and are following all safety measures.
Need Assistance?
If you have any question feel free to contact us!