Underfloor Heating Specialist London
Underfloor heating London in your home can provide you with warmth, comfort, and even cooling when you need them the most. We are underfloor heating specialists and our underfloor heating company provides highly effective heating solutions to households across London. We are a certified service provider and are authorized to provide underfloor heating under British regulations more specifically mentioned in the BS EN 1264 standards. Our team of Underfloor Heating Specialist London maintains strict compliance with all regulations.
What is underfloor heating?
Underfloor heating is an effective way of warming up your floor as well as managing your indoor temperature by acting as the primary source of heat. There are two basic types of underfloor heating systems
Electric systems: Employ electrical cables for generating heat.
Water systems: Employ an arrangement of a pump, pipes, and a heat source. They are also known as hydronic systems.
Both types of underfloor heating can be installed to serve as the main heating system for the whole building as well as a localized floor heating system for comfort. Some systems can even be used for single room heating single rooms to be heated when they are a part of a larger multi-room system, avoiding any wasted heat. Electrical resistance is only used for heating. Whereas hydronic systems can be used for both heating and cooling.
Need Assistance?
If you have any question feel free to contact us!
Our Underfloor heating services
Underfloor heating is a popular way of providing heating to a home. We are here to provide you with this luxury at the most affordable cost. Whether you choose hydronic or electric systems our Underfloor Heating Specialist London can provide both systems for underfloor heating service in London. We can also replace your current radiator heating system with any one of these. The step-wise process includes:
Get in touch with us and our underfloor heating engineer London will provide you with a free site visit. Our certified technicians and plumbers will check your current heating system (if any) to identify the best method of replacement. For new homes, installing a hydronic or electric system is relatively easy. However, for existing homes, the process is more complicated.
Once the site visit is complete, our technicians will present you with a detailed underfloor heating plan and a free quote. The quote will include all costs such as system costs and labour costs.
If you accept the free quote, we will provide you with a date of installation.
On the date of installation, our technicians will visit your site along with all supplies to provide flawless installation services.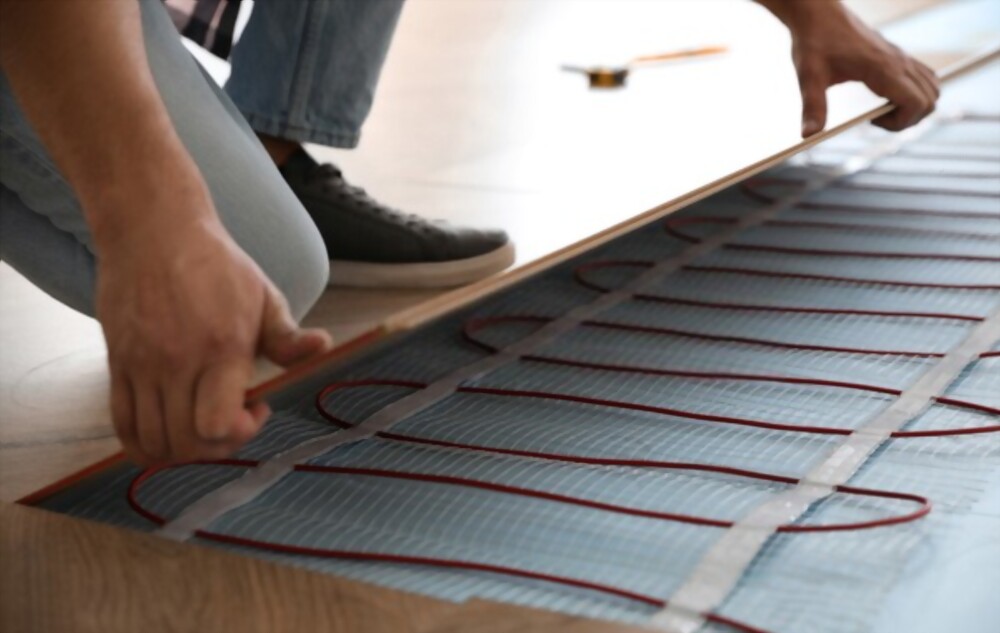 Why Us?
Licensed Team
We have an entire team of plumbers and technicians to provide you with the perfect underfloor heating installation. All our team members carry the necessary licenses and qualifications to provide these services. Our technicians are fully aware of the government regulations about the installation of underfloor heating. Our Underfloor Heating Specialist London employs the latest tools & equipment for providing these installation services to complete perfection. Our team also provides electric underfloor heating repair London and hydronic system repairs.
High-Performance Systems
Whether you opt for an electric system or a hydronic system, we will procure all the supplies from the top vendors in the UK. The best cables or pipes will be used. All heating components are top quality and many carry a warranty. The underfloor heating systems we install will last a lifetime. We will also provide you with regular maintenance for your system so that it provides you with uninterrupted luxury.
Best Cost
Underfloor heating installation cost depends on numerous factors. The most important one is whether you are building a new home or replacing an existing heating system of another type. Underfloor heating systems can be conveniently installed during the building process. However, if you already have a home and a different heating system, shifting to underfloor heating will require more work and higher costs. The benefits however will outweigh the cost as underfloor systems are more cost-efficient and more effective.
Contact Us
You can get in touch with us on our registered number. Call us and talk to our representative in detail about your requirements. You can request a free site visit over the phone or by using our website.
Need Assistance?
If you have any question feel free to contact us!